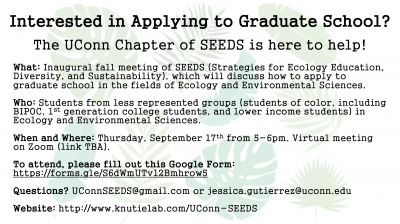 The UConn SEEDS Chapter will be holding our
first meeting on Thursday, September 17th from 5-6 pm through Zoom
. In this inaugural fall meeting, we will talk about how to apply to graduate school in Ecology and Environmental Sciences. 
Please fill out
this Google Form
if you are interested in joining us: 
https://forms.gle/S6dWmUTv12Bmhrow5
. This is a great opportunity to explore your possibilities after graduation. 
Our Graduate Student Representative, Jessica Gutierrez, will be leading this meeting and providing tips to make yourself a stronger candidate. 
We would also love to welcome new members.
The mission of the UConn Chapter of SEEDS is to promote the participation, inclusion, and equity of students from underrepresented backgrounds (due to race, ethnicity, first-gen, low income) in the fields of ecology and environmental sciences. 
Everyone who joins before 09/17 will have the opportunity to vote on a fall invited speaker. To sign up for SEEDS, please fill out the form here: 
http://www.knutielab.com/UConn-SEEDS
---